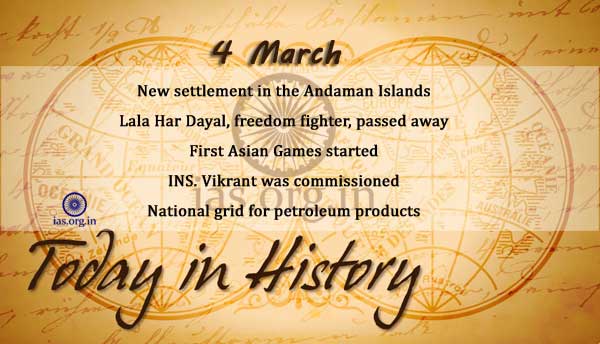 1858
J. P. Walker, British Officer, along with 200 prisoners who were mainly from the Indian Sepoy Mutiny, sailed from Calcutta to start a new settlement in the Andaman Islands.
1939
Lala Har Dayal, revolutionary, nationalist and freedom fighter, passed away in Philadelphia.
1951
Eleven countries and 489 male and female athletes participated in the first Asian Games started at National Stadium in New Delhi.
1961
First Indian aircraft carrier naval fighter vessel "INS. Vikrant" was commissioned in Belfast.
1996
Union Govt. decides to set up a national grid for the distribution of petroleum products.
Related Articles: