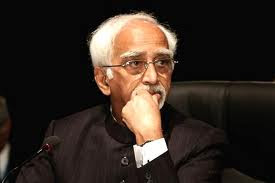 Shri Mohd. Hamid Ansari
Father's Name: Mohammad Abdul Aziz Ansari
Mother's Name: Mrs. Aasiya Begum
Date of Birth: 1 April 1937
Place of Birth: Calcutta
Marital Status: Married
Spouse's Name: Mrs. Salma Ansari
Children: Two sons and one daughter
Educational Qualifications: BA (Hons); MA (Political Science)
Permanent Address: D-55, IFS Apartments, Mayur Vihar, Phase-I, Delhi – 110091
Present Address: Vice-President House, 6, Maulana Azad Road, New Delhi – 110011
Tel. – 23016422, 23016344
E-mail: vpindia[at]sansad[dot]nic[dot]in
Positions Held:
    Joined the Indian Foreign Service (IFS) in 1961 and served in Indian missions in Baghdad, Rabat, Jeddah and Brussels
    Ambassador to the United Arab Emirates (1976-1979)
    Chief of Protocol to Govt. of India (1980-1985)
    High Commissioner to Australia (1985-1989)
    Ambassador to Afghanistan (1989-1990)
    Ambassador to Iran (1990-1992)
    Permanent Representative to the UN, New York (1993-1995)
    Ambassador to Saudi Arabia (1995-1999)
    Visiting Professor, Centre for West Asian and African Studies, Jawaharlal Nehru University, New Delhi (Dec 1999-May 2000)
    Vice-Chancellor, Aligarh Muslim University, Aligarh (2000-2002)
    Distinguished Fellow at the Observer Research Foundation, New Delhi (2002-2006)
    Visiting Professor, Academy for Third World Studies, Jamia Millia Islamia, New Delhi (2003-2005)
    Co – Chairman, India-U.K. Round Table (2004-2006)
    Member, National Security Advisory Board (2004-2006)
    Chairman, Advisory Committee for Oil Diplomacy, Ministry of Petroleum and Natural Gas (2004-2005)
    Chairman, Working Group on 'Confidence building measures across segments of society in the State', established by the second Round Table Conference of the Prime Minister on Jammu and Kashmir, held at Srinagar, 24-25 May, 2006; the report of the Working Group was adopted by the 3rd Round Table held at New Delhi, 24 April 2007
    Chairman, Fifth Statutory National Commission for Minorities (March 2006-July 2007)
    Vice President of India and ex officio Chairman, Rajya Sabha since 11th August 2007.
Books Published: Edited, Iran Today: Twenty Five Years After the Islamic Revolution, New Delhi, 2005; has written several academic papers and newspaper articles on West Asian Politics.
Awards: Padma Shri (1984)
Sports: Golf and Cricket
Institutes/Clubs: India International Centre, Institute of Defence Studies and Analysis (IDSA), United Services Institution Delhi Golf Club, Delhi Gymkhana Club, Noida Golf Club
Countries Visited: Visited many countries during the diplomatic and academic career.
Contact Details:
Vice President's House, 6, Maulana Azad Road, New Delhi – 110 011
Phone: 011-23016422, 23016344
You May Also Like: