1. Indian Railways is the largest railways network to be operated by a single government and is the world's third largest network with a total length of 127,760 km.
2. Indian Railways-owned the longest railway platform in the world at Kharagpur with a length of 2,733 feet. Now, breaking the record, Gorakhpur station has recently taken its place with a span of 4,430 feet.
Read More: The World's longest railway platforms are
3. UNESCO has included the Chhatrapati Shivaji Terminus, and the Indian Mountain Railways (Darjeeling Himalayan Railways, Nilgiri Mountain Railways and Kalka Shimla Railway) UNESCO' World Heritage site list. All three trains of Indian Mountain Railways have been functional for some 100 years. The Chhatrapati Shivaji Terminus is a classic fusion of Gothic art with Indian architecture.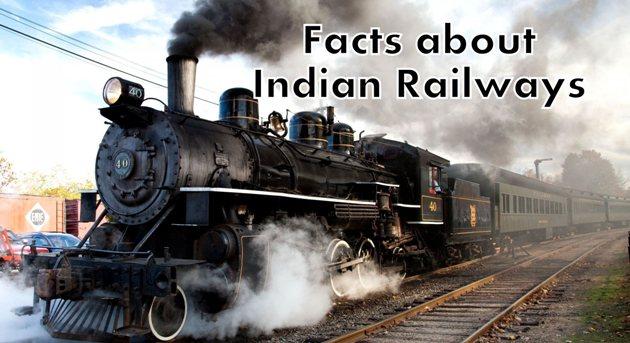 4. Indian Railways has five luxury trains. Namely Royal Rajasthan on Wheels, Palace on Wheels (Rajasthan), The Golden Chariot (Karnataka and Goa), The Maharajas' Express (begins in Delhi but the itinerary differs) and The Deccan Odyssey (begins in Maharashtra but itinerary differs).
5. The Vivek Express (Dibrugarh to Kanyakumari) travels a distance of 4273 km, which is the longest run in the railways. The shortest run is taken by a few scheduled services between Nagpur and Ajni – a total of 3 km.
Read More – India's Longest Railway Routes
6. Srirampur and Belapur are two different stations in Ahmednagar district of Maharashtra. They are both situated at the same point on the railway route but are located on opposite sides of the track.
7. Mathura junction has the maximum number of routes emerging from it. 7 of them include – Broad Gauge (BG) line to Agra Cantt, BG line to Bharatpur, BG line to Alwar, BG line to Delhi, Metre Gauge (MG) line to Achnera, MG line to Vrindavan and MG line to Hathras.
8. The resonance frequency of the suspension for the coaches is kept as close as possible to 72 bpm or 1.2 Hz while designing. The human body is most comfortable at 1.2 Hz frequency as it's one of the most fundamental frequencies of our bodies (normal heartbeat) – which is why people sleep soundly in trains. 
9. The railways function on an operating ratio of 94%, that is, it spends 94 paisa on every rupee that it earns. The amount of Rs. 4 saved from every Rs. 100 earned is minuscule and the revenues of the railways have been suffering because of the negligible revision of prices.
10. The diamond crossing (dubbed so by railways themselves), in Nagpur, is one-of-its-kind, from where trains go East, West, North and South.
You May Also Love to Read: Salient Features of Railway Budget 2016
11. The Indian Railways is constructing the world's highest rail bridge over Chenab. The bridge will be 1,315 meters long and will use up to 25,000 tonnes of steel. The idea was initially conceived in 2008 but the project was paused due to safety concerns. The work, however, began in 2010 and it is expected to be completed this year.
12. The longest tunnel in the country is Pir Panjal Railway tunnel in Jammu and Kashmir which is 11.25 kms long.
13. The busiest junction in the country is Howrah junction in Kolkata with as many as 974 trains stopping there daily.
14. All the electric appliances (fans, lights) in rail coaches function at 110 volts instead of the Indian standard 220 volts. It is a very effective counter-measure against thieves!cantt-railway-station-038
15. The mascot for Indian Railways is Bholu, or Bholu the guard elephant, which was designed by National Institute of Design. It was unveiled on 16th April 2002.
16. The oldest working Indian locomotive still in use is the Fairy Queen, which worked with a steam engine. It was built in 1855. After retiring in 1909, it was relaunched in 1997 and operates as a tourist train between Delhi and Alwar. It travels at a speed 40 km/h.
You May Also Read: Indian Railway Zones and their Headquarters
17. The Indian Railways is the world's eighth largest employer with a total of 1.4 million employees.
18. Computerized reservations began in New Delhi in 1986.
19. Indian Railways launched an awareness campaign train on World AIDS Day, December 1, 2007, called the Red Ribbon Express.
20. India has eight Railway Museums – in Delhi, Pune, Kanpur, Mysore, Kolkata, Chennai, Ghum and Tiruchirappalli. Out of these, the National Railway Museum in Delhi is the largest rail museum in Asia.