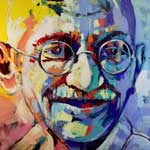 On the evening of 30th January, 1948, at his daily prayer meeting Gandhiji was shot dead by a young man from Pune named Nathuram Godse. Coincidently Nathuram Godse was the editor of an extremist Hindu Newspaper that had declared Gandhiji as 'an appeaser of Muslims".
Rich tributes were paid to him from across the political class in India and moving appreciations came from international figures like Albert Einstein and George Orwell.
Time Magazine compared his martyrdom to that of Abraham Lincoln. Time wrote "The world knew that it had, in a sense too deep, too simple for the world to understand, connived to his (Gandhiji's) death as it had connived to Lincoln's."
Must Read: Chandrashekhar Azad
Brief Biography of Mahatma Gandhi
The beginning
Monandas Karamchand Gandhi was born on 2nd October, 1869 at Porbandar in Gujarat. His father was Diwan in a small principality of Rajkot. He went to England for his degree in law.
Days in South Africa
After getting degree he started his legal practice in Bombay and from there he went to South Africa in 1893.
A famous historian, Chandran Devanesan, has said, South Africa was "the making of the Mahatma". It was during the course of his struggle against the policy of the racial discrimination of the South African Government, he forged the distinctive techniques of Satyagraha (non-violent protest for truth and justice).
Return back to India
Gandhiji returned to India in January, 1915, after two decades to residence in a foreign country. He was then forty six years old.
Also Read: Gopal Krishna Gokhale: An Estimate of a Genius
First public appearance of Gandhi
Gandhiji's first important public appearance was at the opening ceremony of the Banaras Hindu University (BHU) in February, 1916.
There in his speech he emphatically said, "There is no salvation for India unless you strip yourself of this jewellery that hold it in trust for your countrymen in India," he went on "our salvation can only come through the farmer; neither the lawyers, nor the doctors, nor the rich landlords are going to secure it."
Sabarmati Ashram
Gandhiji founded Sabarmati Ashram at Ahmedabad in 1916, to promote and practice the ideas of truth and non-violence.
Champaran Satyagraha
In December, 1916, at the annual session of Congress that was held in Lucknow, he was approached by a peasand from Champaran (in Bihar) who narrated him about the harsh treatment of peasants by British Indigo planters.
From Champaran Gandhiji's first experiment in Satyagraha initiated. Gandhiji defied the orders of the officials and refused to leave the place. Eventually he succeeded in clinching some relief for the peasants.
You May Also Read: Democracy and Social Transformation: Insights from Ambedkar
Fast unto death for mill workers in Ahemadabad
In 1918, Gandhiji undertook fast unto death to resolve a dispute between the workers and millowners of Ahmedabad. His fast forced mill owners to compromise and they agreed to raise the wages of the workers up to thirty five percent.
Rowlatt Act and Satyagraha Sabha
Gandhiji in order to oppose the Rowlatt Act, founded the Satyagraha Sabha in 1919. March 30, 1919 was celebrated as Satyagraha Day all over India.
Hartal of 1919
Gandhiji gave a call for hartal on April 6, 1919 that culminated Jallianwalla Bagh massacre. The Satyagraha continued till April 18, 1919.
Non-cooperation Movement
In August, 1920, Gandhiji started his Non-cooperation movement. The movement, a non-violent one, spread all over India with great speed. As a consequence of this movement, for the first time since the revolt of 1857, British Raj was shaken to its foundations.
However in February 1922, a violent incident happened at Chauri Chaura in which a mob attacked and torched a police station in which twenty two policemen died.
This incident prompted Mahatma Gandhi to immediately suspend the movement altogether.
Have a Look at: Ambedkar's World : The Making of Babasaheb and the Dalit Movement (Eleanor Zelliot)
Charge of sedition and arrest
Gandhiji was arrested on the charge of Sedition in March 1922. He was released from the prison in February, 1924.
Works for Social Empowerment
From 1924 to 1928 Gandhiji remained busy in promoting Khadi (home spun cloth) and the abolition of untouchability.
Dandi March and Civil Disobedience Movement
Gandhiji Started his Civil Disobedience Movement by his famous Dandi March on March 12, 1930. The movement continued amidst the repressive policy of the Government till the beginning of 1931.
Gandhi-Irwin Pact and Second Round Table Conference
Eventually in 1931, Gandhi-Irwin Pact was signed, on which basis the movement was halted for a year, Gandhiji went to London in 1931 to take part in the Second Round table conference as the sole representative of the Congress.
However this conference failed, and Gandhi ji returned to India as a frustrated person and resumed Civil Disobedience.
Also Read: Emergence of Gandhi
Communal Award
In 1932, Gandhiji went on fast unto death against the Communal Award declared by the British Prime Minister Macdonald.
Civil Disobedience Movement finally revoked in 1934.
Quit India Movement
In August 1942, "Quit India Campaign" was launched by Mahatma Gandhi. Gandhi jee was put behind the bar at once. 'Quit India' was genuinely a mass movement in which hundreds of thousands of ordinary Indians took part.
At the time of the end of Second World War, in 1944, Gandhi ji was released after that Gandhi jee spent most of his life trying to bridge the gap between the Muslim League and the Congress. But he failed and India was divided into two countries. And the entire blame went to Gandhi ji.
Independent India and Gandhi
On 15th August 1947, Gandhi Jee was not present at the festivities in the capital. He marked the day with a 24 hour fast in Calcutta. He started to visit hospitals and refugee camps giving consolation to grief striken people.
End of a Life and birth of a legend
On 20 January 1948, some people attacked Gandhiji with an intention to kill him but he continued with his worked without any sign of weakness. At last a fanatic got the success on the evening of 30th January, 1948 and murdered the Mahatma which shook the soul of the entire nation.
Don't Miss: National Movement of India: 1905 to 1920