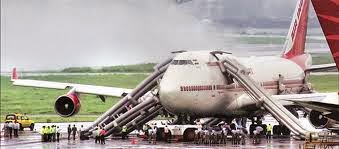 1. Half the international airports, which are located in
South India, are within 500 kilometers of each other.
2. The Trichy Airport has the shortest runway among the
International Airports, spreading 816 feet.
3. The Chhatrapati Shivaji Airport in Mumbai was
initially named The Santa Cruz Airport by the British before it was nationalized
post-Independence.
4. Rajiv Gandhi was a professional pilot associated with
the Indian Airlines.
5. In India, people are always in a hurry to get off the
plane as soon as it lands, often forming queues within the plane and sometimes
causing a stampede. This same crowd is somehow disciplined outside of India.
6. Jet Airways, later renamed as Jet Lite, was initially
started as an air taxi in 1992.
7. The Indira Gandhi International Airport in Delhi is
the busiest airport in India.
8. The Subhash Chandra Bose airport in Kolkata was
initially called 'Dum Dum Airport', until it was renamed after India's freedom
fighter
9. Kerala has 3 of the 14 International Airports in
India.
10. Domestic flights don't serve liquor on domestic
flights, unless it's leaving the country soon after its local stop.
11. Air India was originally Tata Airlines in 1932, after
which a majority of it was bought over by the Government in World War 2.
12. If a plane is delayed in India, it's quicker to catch
the next one than wait on the same flight.
13. Domestic flights sometimes land on the
international terminus.