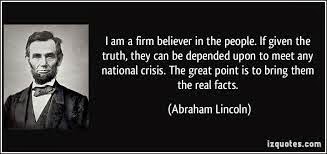 Abraham Lincoln was the 16th President of the United States, serving from March 1861 until his assassination in April 1865. Lincoln led the United States through its Civil War—its bloodiest war and its greatest moral, constitutional, and political crisis. In doing so, he preserved the Union, abolished slavery, strengthened the federal government, and modernized the economy.
Things You May Not Know About Abraham Lincoln
Lincoln suffered depression and avoided carrying knives, fearing he would use it on himself.
Abraham Lincoln was a licensed bartender.
Lincoln's assassin was a famous actor and Lincoln himself was a fan of him.
Abraham Lincoln's son, Robert, was saved from a train accident by Edwin Booth, brother of his father's
killer, John Wilkes Booth.
Lincoln was the first major leader in the U.S. to feel that women should be allowed to vote.
Abe Lincoln is enshrined in the Wrestling Hall of Fame, having lost just once in 300 matches.
Abraham Lincoln Created The Secret Service The Day He Was Shot.
Charles Darwin and Abraham Lincoln were born on the same day.
Abraham Lincoln dreamt of his assassination before it happened. Lincoln, one week before his death, had a dream of someone crying in the White House when he found the room; he looked in and asked who had passed away. The man in the room said the President. When he looked in the coffin it was his own face he saw.
In 1876, a gang of Chicago counterfeiters attempted to steal Abraham Lincoln's body from his tomb and request a US$200,000 ransom.
Lincoln personally test-fired rifles outside the White House.
He was the only president to have a patent: Lincoln invented a device to free steamboats that ran aground.
Lincoln was the first president to sport a beard while serving in office. He was the tallest U.S president at 6'4″.
He was a big animal lover, but he wouldn't hunt or fish. If he were alive today, Lincoln would be running an animal shelter.
He never belonged to an organized church. Lincoln read the Bible daily, but he never joined an organized church in his lifetime
Lincoln felt as the leader of the nation's military, the president should be fighting in the Civil War but obviously, couldn't because of his duties.
Lincoln risked his life while fulfilling his duties as commander-in-chief of the American military.
 Also, Read: