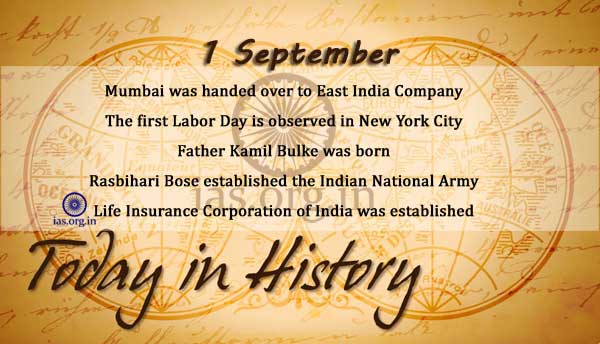 1668
Mumbai was handed over to East India Company by King of England.
1798
England signs treaty with Nizam of Hyderabad, India.
1870
The Prussian army crushes the French at Sedan, the last battle of the Franco-Prussian War.
1882
The first Labor Day is observed in New York City by the Carpenters and Joiners Union.
1893
Kashinath Tryambak Telang, first Maharashtrian Chief Justice of Mumbai High Court, died.
1894
By an act of Congress, Labor Day is declared a national holiday.
1909
Father Kamil Bulke was born. He produced a handy English to Hindi dictionary.
1916
Bulgaria declares war on Romania as the First World War expands.
1923
An earthquake levels the Japanese cities of Tokyo and Yokohama, killing 300,000.
1942
Rasbihari Bose established the Indian National Army.
1947
Indian Standard Time was adopted.
1947
Mahatma Gandhi undertakes a fast for unity among Hindus and Muslims. He breaks the fast after 73 hours when peace is restored.
1956
Life Insurance Corporation of India was established and all Life Insurance Business Companies were nationalised and merged in this corporation.
1956
Indian state of Tripura becomes a territory.
1962
Shivaji University was established in Kolhapur.
1979
US spacecraft Pioneer 11 makes the first-ever flyby of Saturn.
1989
Yasser Arafat chosen for the 1988 Jawaharlal Nehru Award for International Understanding.
1998
Leaded petrol is banned in Delhi.
1999
The Congress(I) President, Ms. Sonia Gandhi, launches a broadside against the Vajpayee Government on handling of Kargil issue.
Also Read: