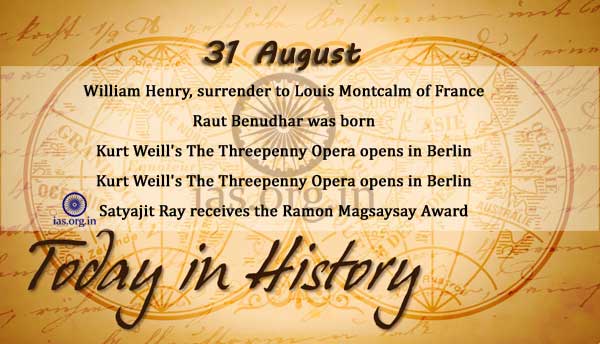 1751
Robert Clive, Britisher, at the age of 26 seizes Arcot in modern Tamil Nadu. He also checked the French advance in South India.
1756
The British at Fort William Henry, New York, surrender to Louis Montcalm of France.
1864
At the Democratic convention in Chicago, General George B. McClellan is nominated for president.
1925
Raut Benudhar, great poet and Hindi writer, was born at Kenojhar in Orissa.
1928
Kurt Weill's The Threepenny Opera opens in Berlin.
1928
Nehru report published in India; demands dominion status in British Empire.
1947
Nehru visits the riot-affected Punjab with Liaqat Ali and Sardar Patel.
1965
US Congress creates Department of Housing & Urban Development.
1967
Satyajit Ray receives the Ramon Magsaysay Award.
1968
Rohini MSV-I, the first Indian-made two-stage sounding rocket, successfully launched from Thumba.
1969
Javagal Srinath, cricketer (Indian right-arm pace bowler since 1991), was born in Mysore.
1979
M. Hidayatullah, consensus choice of political parties, appointed as Vice-President of India (1979 – 1984).
1982
G. S. Pathak, former Vice President of India, died.
1986
A Russian cargo ship collides with cruise ship Admiral Nakhimov, killing 398.
1993
Pranab Mukherjee rejoins the Union cabinet as Commerce Minister.
1994
Last Russian troops leave Estonia and Latvia.
1997
Lok Sabha creates history with its largest-ever sitting of about 22 hours for a special golden jubilee session debating issues of national importance.
1998
Prime Minister Vajpayee announces a gift of 10,000 litres of edible oil and five tonnes of milk powder to Nambia during it's severe drought.
Also Read: