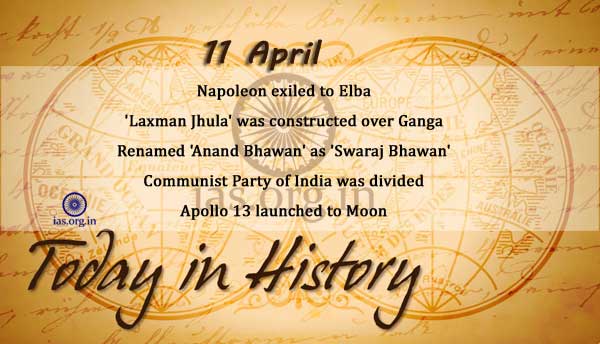 1290
Mu'izzu'd-din Kaiqubad was killed in his bed. He was proved to be an inefficient ruler.
1814
Napoleon Bonaparte, emperor of France and one of the greatest military leaders in history, abdicated the throne, and, as conditioned by  the Treaty of Fontainebleau, was banished to the Mediterranean island of Elba.
1856
Lievens Constantly, Flemish missionary in India, was born.
1913
Iron ropes bridge known as 'Laxman Jhula' was constructed over Ganga at Hrishikesh .
1930
Pandit Motilal Nehru renamed 'Anand Bhuvan' as 'Swaraj Bhawan' and handed it over to the people.
1942
All-India Congress party rejects British offer of dominion status at New Delhi.
1952
Treaty between France and India, transferring the former French settlement of Chandranagar to India, was ratified by the National Assembly, Paris. It was the last formal step in completing the process of sovereignty.
1964
Communist Party of India was divided in two parts. One part came to be known as Communist Party of India [CPI], and its second fragmentation was named as Communist Party of India (Marxist) [CPI(M)]. This division was on ideological differences at the international level.
1970
Apollo 13, the third lunar landing mission, was successfully launched from Cape Canaveral, Florida, carrying astronauts James A. Lovell, John L. Swigert, and Fred W. Haise. The spacecraft's destination was the Fra Mauro highlands of the moon, where the astronauts were to explore the Imbrium Basin and conduct geological experiments.
1984
Soyuz T-11 returns to Earth which carried 3 cosmonauts including the first Indian Sqn. Ldr. Rakesh Sharma, to Salyut 7.
1993
Laxmanrao Madhav Bhide, senior freedom fighter and history expert, passed away.
1997
The DRDO  successfully flight tested AGNI-11 with a range of 2000 km, using solid propellant rocket motors in both stages and rail mobile launcher system from its new launch complex in the Orissa Coast. With this launch the country has reached the point of operationalisation of AGNI-11 as a weapon system. (1-1-2000).
1999
India successfully test-fired the extended range "Agni-II" missile, bridging a key gap in its minimum nuclear deterrent profile.
2000
Ms. Jhumpa Lahiri, an author of Indian origin, won the Pulitzer Prize for fiction for her debut collection of short stories 'Interpreter of Maladies'.
Related Articles: