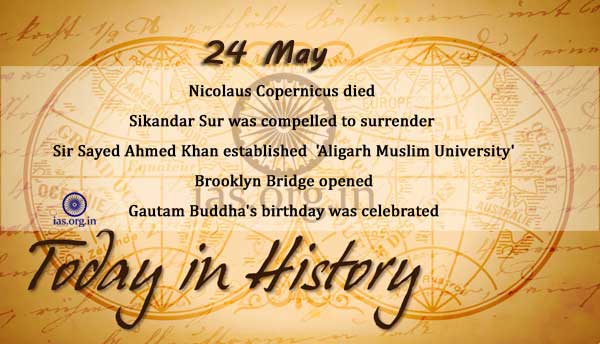 1543
On May 24, 1543, Polish astronomer Nicolaus Copernicus died in what is now Frombork, Poland. The father of modern astronomy, he was the first modern European scientist to propose that Earth and other planets revolve around the sun.
1557
Sikandar Sur was compelled to surrender Mankot in Punjab.
1775
On this day in 1775, John Hancock was elected president of the Second Continental Congress. John Hancock was best known for his large signature on the Declaration of Independence, which he jested the British could read without spectacles. He was serving as president of Congress upon the declaration's adoption on July 4, 1776, and, as such, was the first member of the Congress to sign the historic document.
1813
Krishna Mohan Bandopadhyay, leader, essay writer and journalist in Bengal, was born.
1875
Sir Sayed Ahmed Khan established Mohmmad Anglo Oriental School which was renamed in 1920 as 'Aligarh Muslim University'.
1883
After 14 years and 27 deaths while being constructed, the Brooklyn Bridge over the East River was opened, connecting the great cities of New York and Brooklyn for the first time in history. Thousands of residents of Brooklyn and Manhattan Island turned out to witness the dedication ceremony, which was presided over by President Chester A. Arthur and New York Governor Grover Cleveland. Designed by the late John A. Roebling, the Brooklyn Bridge was the largest suspension bridge ever built to that date.
1935
The Cincinnati Reds beat the Philadelphia Phillies 2-1 on this night in 1935 in Major League Baseball's first-ever night game, played courtesy of recently installed lights at Crosley Fiel in Cincinnati.
1940
Today is the birthday of poet Joseph Brodsky, born this day in St. Petersburg, Russia. His poetry treats such universal topics as life, death, and the meaning of existence. Brodsky's early poetry won critical acclaim, but the Soviet government considered him a loafer and sentenced him to five years of hard labor for "social parasitism."
1956
Gautam Buddha's 2500th birth anniversary was celebrated.
1960
Dr. Ida Sophie Schruder, founder of famous 'Vellore Hospital', passed away in Kodaikanal.
1964
A referee's call in a soccer match between Peru and Argentina sparks a riot on this day in 1964. More than 300 fans were killed and another 500 people were injured in the violent melee that followed at National Stadium in Lima, Peru.
1990
K. S. Hegde, former President of Parliament, passed away.
1991
The body of Rajiv Gandhi, India's assassinated former premier and son of the late Indira Gandhi, was cremated in New Delhi today. He was killed by a suicide bomber in the southern state of Tamil Nadu three days ago. Police suspect that Tamil rebels, fighting for independence in Sri Lanka, carried out the murder. Gandhi's death signaled the end of the Nehru dynasty's rule over India. His two children were too young to assume the leadership of this turbulent nation. There was pressure for Sonia Gandhi to succeed her husband, but she was Italian-born and refused.
1993
India and Uzbekistan signed five pacts.
2000
The Supreme Court rejects the proposal for setting up benches outside Delhi.
Related Articles: