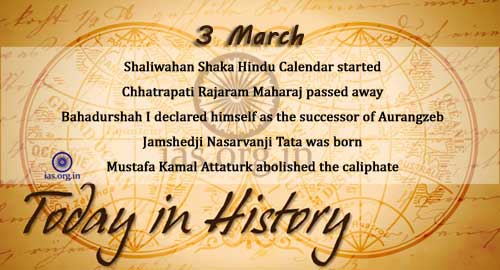 78
Shaliwahan Shaka Hindu Calendar started.
1575
A battle was fought at Turkra or Turkra Qasba (in the Balasore district) in which the Afghans were routed.
1700
Chhatrapati Rajaram Maharaj died of small pox at Raigarh or Sinhagarh fort.
1707
Shehejade Muazzam declared himself as the successor of Aurangzeb and renamed himself Bahadurshah First.
Also Read: DECLINE AND FALL OF MUGHAL EMPIRE
1839
Jamshedji Nasarvanji Tata, famous industrialist and father of modern technology, was born at Navsari near Surat, Gujarat. He started cotton mills in Bombay and Nagpur and founded the Tata Iron and Steel Company, which is one of the largest integrated steel mills in the world.
1847
Alexander Graham Bell, great pioneer, inventor and professor, was born at Edinburgh, Scotland.
1859
A length of 119 miles of line was laid in the North from Allahabad to Kanpur.
1885
Congress passes Indian Appropriations Act (Indians wards of fed govt).
1924
Mustafa Kamal Attaturk abolished the caliphate and established a nationalist government and thus Khilafat Movement ended without achieving its aim.
Also Read: Non-cooperation and Khilafat Movement
1931
Gandhi and Viceroy Irwin sign Delhi Pact giving Indians right to make salt if civil disobedience stops.
1939
Gandhiji commences ""fast unto death"" at Rajkot to protest state's autocratic rule at Bombay and to secure ruler's adherence of promise given towards reform administration, and ends it on March 7 on Viceroy's intervention.
1943
Gandhi breaks his hunger strike after 21 days.
1967
India signed the International Space Treaty in Moscow.
1983
Seventh Non-Aligned Summit started at New Delhi.
Also Read: Today in History – 2 March