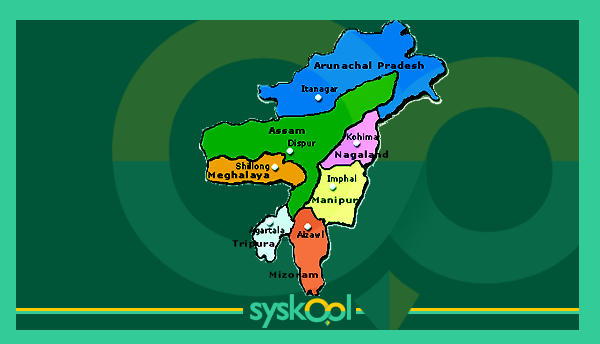 The North East of India is made up of seven separate states and is the most tribal region of India. Northeast India is the eastern-most region of India connected to East India via a narrow corridor squeezed between Nepal and Bangladesh.
The North East of India comprises the contiguous Seven Sister States—Arunachal Pradesh, Assam, Manipur, Meghalaya, Mizoram, Nagaland and Tripura—and the Himalayan state of Sikkim.
These states cover about 7 percent of India's total area. The northeastern states, having 3.8% of India's total population, are allotted 25 out of a total of 543 seats in the Lok Sabha This is 4.6% of the total number of seats.
All the seven states are members of the North East Council, organized on 1st August 1972 and within the Jurisdiction of Guwahati High Court.
Sikkim joined the Indian union through a referendum in 1975 and was recognized as a part of North-East states in the 1990s. Northeast India's population size is roughly equal to the state of Odisha.
The states are officially recognized in the North Eastern Council (NEC), constituted in 1971 as the acting agency for the development of the eight states. The North Eastern Development Finance Corporation Ltd was incorporated on 9 August 1995 and the Ministry of Development of North Eastern Region was set up in September 2001.
Read Also: Renewable Energy (RE): Promoting 'Make in India'
North East India is known for its unique culture, handicrafts, martial arts, and scenic beauty. Problems include insurgency, unemployment, and lack of infrastructure. Since the beginning of the economic liberalization in the 1990s, studies have shown that this region is lagging behind the others in terms of development.
A place renowned for its magical beauty and bewildering diversity, North East India is the home of more than 166 separate tribes speaking a wide range of languages. Some groups have migrated over the centuries from places as far as South East Asia; they retain their cultural traditions and values but are beginning to adapt to contemporary lifestyles. Its jungles are dense, its rivers powerful and rain and thunderstorms sweep across the hills, valleys, and plains during the annual monsoons.
Must Read: Water Resources of India
Each state is a traveler's paradise, with picturesque hills and green meadows which shelters thousands of species of flora and fauna. In addition, the states provide scope for angling, boating, rafting, trekking, and hiking. Besides, there are a number of wildlife sanctuaries and national parks where rare animals, birds, and plants which will surely provide the fascinating insight to the visitors.
Don't Miss: