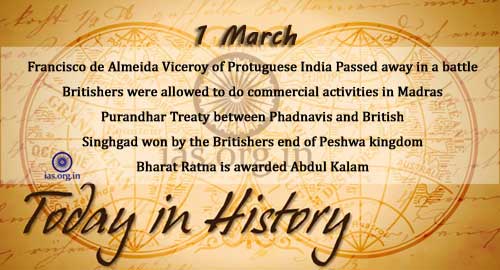 1510
Francisco de Almeida, Viceroy of Protuguese India, passed away in a battle.
1640
Britishers were allowed to do commercial activities in Madras.
1775
Purandhar Treaty was singed between Nana Phadnavis and British Army.
1818
Singhgad won by the Britishers after the end of Peshwa kingdom.
1910
The Dalai Lama is welcomed in Darjeeling.
1917
J.F.Maden gave a preview of the first Bengali fiction film 'Satyawadi Raja Harischandra.'
1919
Mahatma Gandhi announced his desire to start 'Satyagraha' against proposed Rowlatt Act meant to curb civil and political liberties.
1950
The population figure for India is announced as 347,340,000.
1960
National Aeronautical Research Laboratory moves to Bangalore with offices at Palace Road and Jayamahal Road. It soon becomes National Aeronautical Laboratory. Dr Nilakantan invites Dr D M Rao to lead the 4 ft tunnel project.
1961
The first AN-12B arrived in India. This was added in the force because of the increasing frequency of clashes with Chinese forces on the Sino-lndian Himalayan border and the need that these revealed for yet further increase in airlift capability, together with a requirement for medium helicopters suitable for high-altitude operation, orders were placed in the Soviet Union for eight Antonov An- 12B and 24IL-yushin 11- 14 transport aircraft plus 10 Mi-4 helicopters.
1962
Gaya University renamed as Magadh University.
1963
25 Sqn, AF was formed with 04XAN-12 aircraft acquired from the erstwhile USSR. This was to supply lines to the Army in the Northern Sector encompassing J&K and Ladakh regions.
1971
Central Translation Bureau was setup as a subordinate office under the Ministry of Home Affairs. The Bureau undertakes translation work of manuals, codes, forms and other non-statutory procedural literature of various ministries, departments, offices of the Central Government and Undertakings, Banks etc.
1978
Justice Y. Y. Chandrachud is sworn in as the Chief Justice of India.
1979
Jairamdas Doulatram, great national leader, freedom fighter and journalist, passed away at Delhi. He played a vital role to recognised Sindhi as one of the national laguages of India.
Also Read: Today in History – 27 February
1993
India develops Phased Array Radars critical for its ""Akash"" surface-to-air missile and launches its indigenous main battle tank 'Arjun'.
1996
Supreme Court frees CBI from the control of PM Rao and directs that CBI would take no instruction or permission from or report to any authority personally interested in or likely to be affected by the investigation into the hawala case.
1998
Bharat Ratna is awarded to Dr. A.J.P. Abdul Kalam, Scientific Adviser to the Defence Minister, and Smt. M. S. Subbulakshmi, Carnatic musician. The award is also conferred posthumously on film director Satyajit Ray, freedom fighter Aruna Asaf Ali and former Prime Minister Gulzari Lal Nanda.
Also Read: Today in History – 29 February