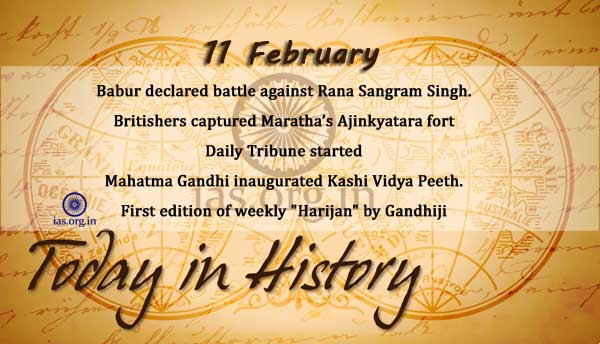 1527
Babur declared battle against Rana Sangram Singh.
1818
Britishers captured the 'Ajinkyatara' fort which belonged to the Marathas.
1906
'Daily Tribune' started its printing from Lahore.
1933
The outcome of the conference was that diarchy in the province was abolished, federal system was established in the center, Sindh was separated from Bombay, communal awards were started by the Prime Minister of Britain Sir Ramsay McDonald and White Paper on Indian reforms was published in 1933.
1933
First edition of weekly "Harijan" edited by Mahatma Gandhi was published from Pune in English and Hindi.
1942
Jamnalal Bajaj, greatest Industrialist, social reformer, freedom fighter and Gandhiwadi, passed away.
1968
Deendayal Upadhyaya, great philosopher, litterateur, social worker, thinker and founder of Jansangh, passed away.
1977
B.D.Jathi became the second acting President of India.
1977
Dr. Fakruddin Ali Ahmad (1905-1977), the 5th President of India, passed away in office.
1979
Cellular Jail, which is situated at Andaman Nikobar Islands, was declared as a National Memorial.
1996
Wills World Cup Cricket inaugurated at Calcutta. The series was held in India-Srilanka. Sri Lanka won in the finals of World Cup Tournament.