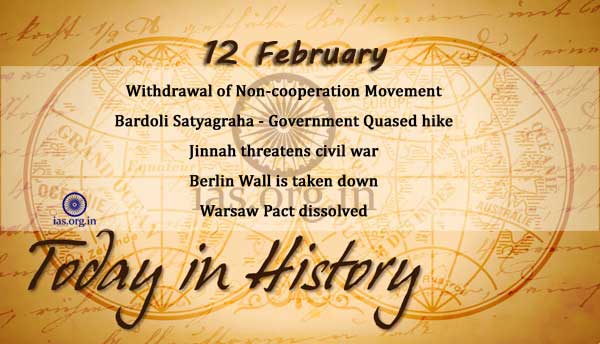 1298
Kublai Khan, the conqueror of Asia, dies at the age of 80.
1554
Lady Jane Grey, the Queen of England for thirteen days, is beheaded on Tower Hill. She was barely 17 years old.
1912
China becomes a republic following the overthrow of the Manchu dynasty.
1922
Mahatma Gandhi announce the withdrawal of non-cooperation movement.
1928
Bardoli Satyagrah (Gujarat) was led by Vallabhbhai Patel against the Bombay government's decision to hike the revenue on cotton by 22 percent while its prices declined Internationally. Ultimately the government quashed the hike.
1946
14 killed in Calcutta riots; Muslim leader Jinnah threatens civil war.
1990
The Berlin Wall is taken down February 12. Germany is reunited over the next year. Warsaw Pact dissolved.