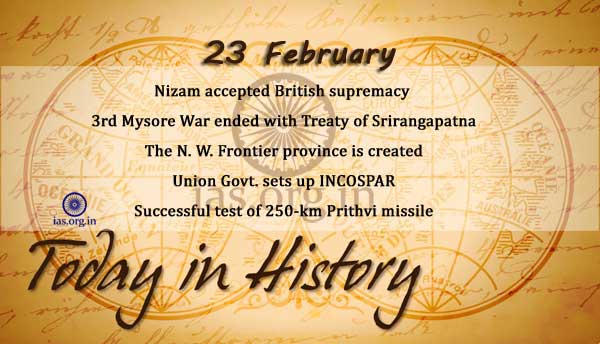 1768
Nizam accepted British supremacy and Smith Col. signed peace treaty with the Nizam.
1792
The Third Mysore War ended in Tipu Sultan's signing of Peace Treaty dictated by Lord Cornwallis & surrendering his two sons, Abdul Khaliq & Maiz – Uddin. This is known as Treaty of Srirangapatna.
Also Read: The rise and fall of Mysore – Reign of Haider Ali and Tipu Sultan
1932
The N. W. Frontier province is created.
1952
Employees Provident Fund Bill and Miscellaneous Provision Act passed in the Lok Sabha.
1962
Union government sets up an Indian National Committee for Space Research (INCOSPAR) formed by the Department of Atomic Energy and work on Thumba Equatorial Rocket Launching Station (TERLS) started.
Also Read: Indian Space Research Organisation (ISRO)
1980
Prakash Padukone becomes the first Indian to win All-England Badminton Championship.
1997
Successful test firing of the 250-km version of the Prithvi missile.
Also Read: Indian Missiles Development