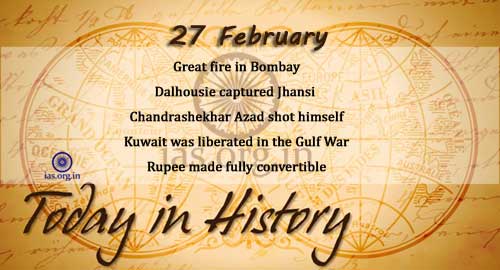 1803
Great fire in Bombay.
1844
Dominican Republic gained independence from Haiti.
1854
Lord Dalhousie captured Jhansi under the East India Company.
Also Read: How East India Company Established British Empire in India? Explained.
1931
Chandrashekhar Azad of Hindustan Republican Army shot himself to avoid British police arrest at Alfred Park, Allahabad.
Don't Miss: National Movement of India: 1920 to 1940
1933
German Reichstag building in Berlin was destroyed by fire.
1951
The 22nd Amendment to the United State's Constitution was ratified, limiting the US President to two terms.
1956
G. V. Mavlankar, first speaker of Lok Sabha, passed away.
1987
UN Secretary General Javier Perez de Cuellar recieved the Jawaharlal Nehru award for International Understanding.
1991
Kuwait was liberated in the Gulf War.
Also Read: Important Wars and Battles
1993
Rupee made fully convertible in Manmohan Singh's third successive budget.
1996
In the Jain hawala case, non bailable warrants of arrest issued against 10 politicians including BJP leader L.K. Advani, former Dy. PM Devi Lal and former Union Ministers.
1996
Manmohan Singh presents the vote-on-account as part of the interim budget in Lok Sabha for 1996-97 with a Rs. 5000 crore deficit.
1999
Union Budget presented. Fiscal deficit cut to 4.4 per cent.
2012
Ali Abdullah Saleh stepped down as president of Yemen after months of protests.
Also Read:
Today in History – 26 February
Today in History – 25 February