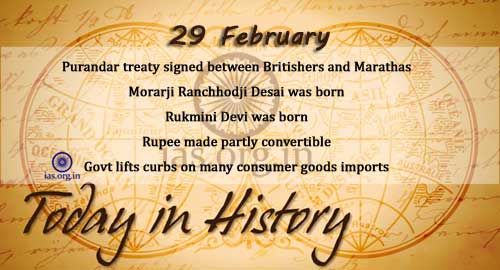 1776
The famous Purandar treaty signed between Britishers and Marathas.
1896
Morarji Ranchhodji Desai, fourth Prime Minister of India and recipient of Bharat Ratna, was born at Bhadeli village near Bulsar in Gujarat. He was former Chief Minister of Bombay Province.
1904
Rukmini Devi, renowned Bharat Natyam dancer, was born in a South Indian family with a tradition of culture and scholarship. She was nominated to Rajya Shabha in 1952 and introduced the Bill for the ""Prevention of Cruelty to Animals"
1940
Shrachandra Dayarnav Kopardekar, editor, author and publisher, was born.
1992
Rupee made partly convertible and Income Tax rates reduced in the Union budget.
Government lifts curbs on many consumer goods imports in a move to liberalise imports.