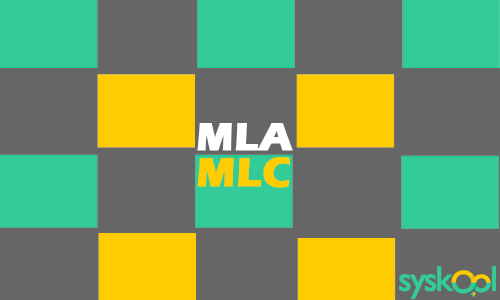 All the States of India and some of Union Territories have legislative assemblies as their state legislature. Members of these legislative assemblies are elected by the voters of the state in the elections held in every five years on the basis of adult franchise votes.
Each Member of Legislative Assembly(MLA) represents his constituency in the state legislature. Any person above age 25, who can vote and become a member of parliament can also become an MLA.
Among Union territories, Delhi and Puducherry have got their Assemblies.
Member of Legislative Council – MLC
There are Seven States in India having a bicameral legislature. Upper house in these states is known as Vidhan Parishad or Legislative Council. Name of these states are as follows:
Andhra Pradesh
Bihar
Jammu and Kashmir
Karnataka
Maharashtra
Telangana
Uttar Pradesh
Total strength of any legislative council cannot be less than 40 or more than one-third of the total strength of the Legislative Assembly of that State.
Members of Legislative Councils are elected for a six-year period and one-third members of the total strength of council retire in every second year. Any able Indian citizen with 30 years of age can become MLC.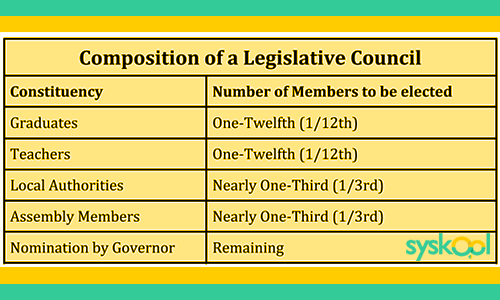 State Websites
You may click the following links to check official websites of all Legislative Assemblies and Legislative Councils in the country. Each website here also contains a list of Members of Legislative Assembly (MLAs) and Legislative Council (MLCs).
Andhra Pradesh – aplegislature.org
Arunachal Pradesh – arunachalassembly.gov.in
Assam – assamassembly.gov.in
Bihar – vidhansabha.bih.nic.in
Chhattisgarh – cgvidhansabha.gov.in
Delhi – delhiassembly.nic.in
Goa – goavidhansabha.gov.in
Gujarat – gujaratassembly.gov.in
Haryana – haryanaassembly.gov.in
Himachal Pradesh – hpvidhansabha.nic.in
Jammu & Kashmir – legislativebodiesinindia.nic.in
Jharkhand – jharkhandvidhansabha.nic.in
Karnataka – www.kla.kar.nic.in/
Kerala – niyamasabha.org
Madhya Pradesh – mpvidhansabha.nic.in
Maharashtra – mls.org.in
Manipur – manipurassembly.nic.in
Meghalaya – megassembly.gov.in
Mizoram – mizoram.nic.in
Nagaland – nagaland.nic.in
Odisha – ws.ori.nic.in
Punjab – legislativebodiesinindia.nic.in
Rajasthan – rajassembly.nic.in
Sikkim – sikkim.gov.in
Tamil Nadu – assembly.tn.gov.in
Tripura – tripura.gov.in
Uttarakhand –  uk.gov.in
Uttar Pradesh – uplegassembly.nic.in
West Bengal – wbassembly.gov.in
You May Also Like:
Legislative Relation Between Centre and State in India
Membership of State Legislature
Wavell Plan & Simla Conference