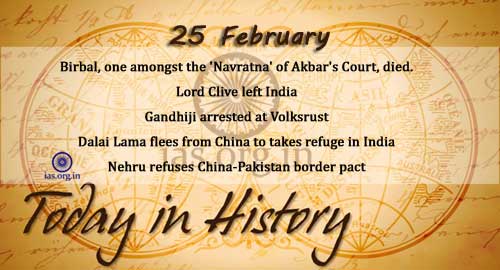 1510
Portuguese Catholics conquer Goa under Albuquerque, the then Governor, to serve as capital of their Asian maritime empire beginning conquest and exploitation of India by Europeans.
1586
King Birbal, renowned wit and one amongst the 'Navratna' of Emperor Akbar's Court, died in a war with Usuf Jard Kabile.
1760
Lord Clive left India. His successors as Governors of India were J. Holwell and H. Vansittart from July 1760 to 1765. He was re-posted to India on May 3, 1765.
1909
Gandhiji arrested at Volksrust; sentenced to 3 months.
1910
Dalai Lama, Tibeten monk, flees from Chinese troops and takes refuge in India.
1963
Nehru refuses to recognize China-Pakistan border pact in New Delhi.
1968
Judge Mohammad Hidayatullah became the Chief Justice of India. He held this office till 16/12/1970.
1976
India announces plan to penalize parents who have more than two children.
1977
Second satellite Earth Station established at Dehradun.
1998
Tendulkar's first first-class 204* for Mumbai vs Australia.