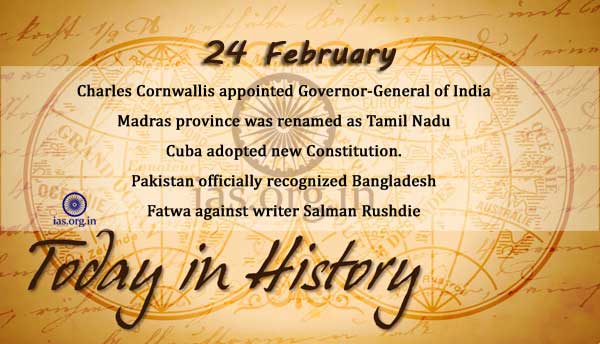 1786
Charles Cornwallis appointed Governor-General of India.
1948
The State of Junagarh, whose accession to India was protested by Pakistan in the UN Security Council, voted in favour of India in a popular referendum held on 20 February.
1961
Government of Madras province was renamed as Tamil Nadu.
1974
Pakistan officially recognized Bangladesh.
1976
Cuba adopted new Constitution.
1988
Prithvi, India's first indigenous designed surface-to-surface tactical missile of 250km, was successfully test fired from Sriharikota. India becomes the fifth country to develop such a missile.
1989
Fatwa against writer Salman Rushdie by Supreme religious leader of Iran, Ayatollah Khomeini.
2008
Cuban President Fidel Castro left his post of President after 50 years.