"Painting is just another way of keeping a diary." , said the famous painter Picasso and the quote is clearly justified by different forms of painting we get to see around us and the way they hold records of our glorious Indian history. The art of painting is another form of storytelling and giving way to your emotions that have been an integral part of indian historical art since time immemorial and continue to do so even till date.
One such form of art is known by the name 'Mural paintings'. It comes from the Latin word 'murus' which means wall. Murals often show the concerns, hopes, values and memories of the community where the murals are painted. A mural is any piece of artwork that is painted or applied directly on a wall, ceiling or any other large permanent surface. In the mural technique the pigment mixed with water is applied directly on a thin layer of wet, fresh, lime mortar or plaster already applied on the wall or ceiling. The pigment is absorbed by the wet plaster when left for few hours and then the plaster dries and reacts with the air. It is this chemical reaction which fixes the pigment particles in the plaster and that is why the painting is able to stay for a long time up to centuries, withstanding the extremities, in fresh and brilliant colors.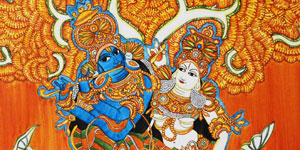 Murals are significant as they bring art into a large public sphere as they are put up on a large wall or ceiling. They are also used as the restoration technique to preserve old heritage monuments and structures and therefore the work gets a wide audience which otherwise is not always possible for a small painting set in an art gallery. The way murals cater to a large audience they can be used as an effective tool for social emancipation. Also murals can add to the scenic beauty of a place where they are painted.
We have had a long tradition of mural painting in India. Out of which murals of Kerala are the most famous ones. They are the frescos depicting mythology and legends drawn on the walls of temples and churches. They display an abounding tradition of mural paintings mostly dating back between the 9th to 12th centuries CE when this form of art enjoyed royal patronage. The murals of Thirunadhikkara Cave Temple and Tiruvanchikulam are considered the oldest relics of Kerala's own style of murals. Fine mural paintings are depicted in temples at Trikodithanam, Ettumanur, Vaikom, Pundarikapuram, Udayanapuram, Triprangode, the Thodeekalam temple in Kannur and the Sri Padmanabhaswamy temple at Thiruvananthapuram. Other mural sites are in the churches at Ollur, Chalakkudy, Angamaly, Akapparambu, Kanjoor, Paliekkara, Edappally, Vechur, Cheppad and Mulanthuruthy, and at palaces such as the Krishnapuram Palace near Kayamkulam and the Padmanabhapuram Palace.
The traditional style mural art form, using natural pigments and vegetable colours is being revived by a new genre of artists actively involved in researching and teaching mural art at the Sree Sankara Sanskrit College in Kalady and also at a mural art school associated with the Guruvayoor temple.