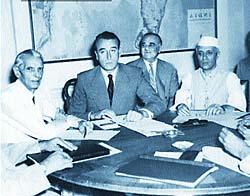 On February 20, 1947, the British Government made the historic announcement declaring its intention to transfer power to responsible Indian hands not later than June 1948.
Lord Mountbatten, immediately after assumption of office, plunged himself into prolonged negotiations with party leaders.
He found that the only solution to bring to an end the orgy of communal violence and bloodshed lay in the immediate transfer of power to Indian hands.
With a view to facilitating this transfer, and at the same time to accommodate the rival claims of the two leading communities, he devised die plan of partition of the country into India and Pakistan.
Creation of Pakistan was assented to by both the parties and on June 25, 1947, Lord Mountbatten made the announcement of the agreed plan.