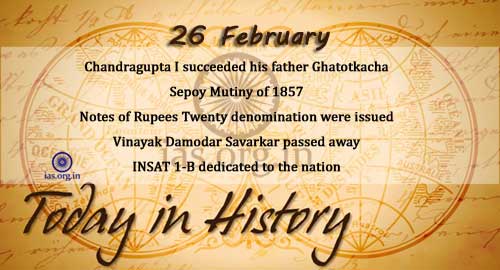 320
Chandragupta I succeeded his father Ghatotkacha at Patliputra. He is known for establishing the Gupta dynasty. Gupta era begins.
Also Read: The Gupta Empire
1857
First Indian Revolution called the Sepoy Mutiny ends in a few months with the fall of Delhi and Lucknow which broke out in Berhampore by the 19th Bengal Infantry.
Read More: Mangal Pandey
1858
Diwan Maniram and Piali Barua were hanged. (Grandson of Purandara Simha, the last Ahom king of Assam.)
1887
Sir Benegal Narsingh Rao, an eminent lawyer and political leader, was born. He was the first Indian President of UN Security Council in 1950.
1901
The notes of Rupees Twenty denomination were issued with two issuing circles. These notes had four numeric denominations.
Don't Miss: United Nations Organisation (UNO)
1966
Vinayak Damodar Savarkar 'Veer', great revolutionary freedom fighter, social reformer, politician and writer, passed away at the ripe old age of 83. He was known for the first person to flee by swimming from Port Blair Jail and was associated with right-wing Hindu Mahasabha, started the Abinav Bharat as a secret society of revolutionary terrorists. He was a great Novelist and Poet.
Also Read: Did you know these basic facts?
1984
Satellite INSAT 1-B dedicated to the nation by Prime Minister Indira Gandhi.
Read More: Timeline of Indian Space Odyssey