Indian Institutes of Management Bill gives more functional autonomy to IIM's  for awarding degree and empower them to become the center of excellence in the field of management study by imparting education and doing collaborative research.
Key Features of IIM Bill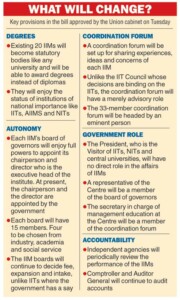 1. Indian Institutes of Management Bill empowers IIM's to grant full-time Masters degree in Management.Earlier they used to award diploma (like Post Graduate Diploma in Management i.e, PGDBM)  which is not considered equivalent to  MBA  in many countries and MNCs.
2.It declares all the existing 20 IIM'S as Institute of National Importance.
3.It gives more autonomy to Board Members.The Board of Governors, which is the executive Body of IIM, will now appoint Director of their individual IIM. A search committee will recommend names for the post of the Director.
The Academic Council of each IIM will determine the: (i) academic content; (ii) criteria and process for admission to courses; and (iii) guidelines for the conduct of examinations.
5.A  coordination forum having representation from the all 20 IIMs will be established and it will discuss matters of common interest to all IIMs.
6.It abolished the post of Visitor in IIM.Currently, President of India is the visitor of all the IIM's.
7.The Bill brought for periodic review of the performance of IIMS by independent agencies free from any influence.
8.The Bill says that CAG will henceforth, audit the accounts of IIM and it will be subsequently tabled in Parliament.
You may also like: An IITian – Now an IAS Topper
Analysis
Though some recommendations of the expert committee  are not addressed in the Bill like autonomy of the Board to determine the salary of faculty members, creation of an autonomous Standing Committee for management education under an apex regulatory body for higher education,yet the Bill will go a long way in empowering the IIM for self-management by reducing government interference in its day to day function,empowering the Board to appoint its own chairman and Director.It thus gives much needed functional autonomy if IIM's and in the time ahead it should be extended to all other institutes of National Importance.
You may also like: 
IAS Topper Shena Aggarwal (Rank 1); PMT Topper, AIIMS Doctor, 12th Topper, IRS