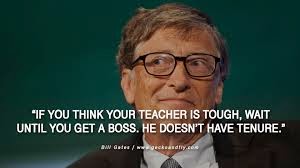 At the age of 13, while studying at private Lakeside School, Gates discovered his interest in software and started writing his own computer programmes.
Bill Gates aimed to become a millionaire by the age of 30. However, he became a billionaire at 31.
Bill Gates pays overUS$1 million per year in property taxes for his house.
At a spending rate of $1 million a day, it would take Bill Gates 218 years to spend all his money.
If you change all of Bill Gate's money to US$1 notes, you can make a road from earth to the moon, 14 times back and forth. But you have to make that road non-stop for 1,400 years, and use a total of 713 BOEING 747 planes to transport all the money.
If Bill Gates was a country, he would be the 37th richest country on earth.
Bill Gates' full name is William Henry Gates III.
The first computer program that Bill Gates wrote was a tic-tac-toe game. The game was played in a 2 player format where the computer was the opponent.
 At 17, Gates sold his first computer program, a timetable system for his high school for which he pocketed a $4,200.
Bill Gates never graduated from college, instead founding Microsoft with his friend Paul Allen in 1975. He was just 20 years old when he founded Microsoft.
Bill Gates earns nearly 250 US Dollars every second. That's about 20 million dollars a day and 7.2 Billion dollars a year! Bill Gates can pay off the entire United States debt in less than 10 years.
Committed in giving back most of his fortune through charity work, Gates has reportedly reserved only about $10 million for each of his children.
Thirty-two years after dropping out of Harvard University in 2007, Gates returned to his school to receive an honorary degree, thus vindicating a promise he had made to his father to one day get his degree.
 On December 9, 2010, Gates, investor Warren Buffett, and Mark Zuckerberg (Facebook's CEO) signed the
"Gates-Buffet Giving Pledge", in which they promised to donate to charity at least half of their wealth.
After stepping down as Microsoft's Chief Executive Officer in January 2000, Gates remained as chairman and created the position of chief software architect for himself.
 Xanadu 2.0, Gates family mansion, boasts a 17-by-60-foot swimming pool with underground music system and a floor painted in a fossil motif.
 During Bill Gates' wedding, to insure his and his wife's privacy for the day of their wedding, Bill rented every single hotel room at the hotel they were staying and chartered every helicopter close by on the Hawaiian island of Lanai.
Also, Read: