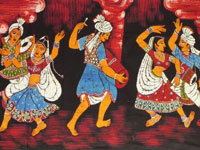 Folk Dances Of India : India is a land of varied cultures and tradition. Each region of the country has its unique culture. Diversities in all spheres make the Indian culture quite unique. These folk dances are not as complex as the classical dances , they are very beautiful. They have in them an essence of rawness. While Indian classical dance forms were practiced in courts, temples, and special occasions, folk dances are performed for every possible occasion. These dance forms are very simple. They are full of energy and vitality. Each dance form has a specific costume and rhythm. Most of the costumes worn for folk dances are colorful with extensive jewels and designs. The following dance forms are popular in some of the Indian states:
Read Also: Indian Dances
Dumhal:
This form is popular in Kashmir. It is performed with long colourful robes and tall conical caps. It is accompanied by songs sung by the dancers themselves. The performers place a banner into the ground at a fixed location and they begin to dance around this banner.
Bihu:
It is a popular dance form of Assam. This dance form is an integral part of the Bihu festival of Assam. The Bihu festival is celebrated in the month of April, during the harvesting time and lasts for about a month. Young men and girls perform the Bihu dance together to the accompaniment of drums and pipes. The dance is performed in circles or parallel rows.
Must Read: Kathak an introduction
Gaur Dance:
It is a popular dance of Madhya Pradesh. It is popular in South Bastar. Men put head-gears with plumes of peacock feathers and make their way to the dancing ground. Women ornament themselves with brass fillets and bead necklaces and join the gathering. This form has a wild touch in it.
Chhau
Chhau is a popular folk dance of Bihar. Masks form an important feature of Chhau. The dancers hold swords and shields while performing. The musical instruments used in this form are the Dhol (a cylindrical drum), Nagara (a huge drum) and Shehnai (reed pipes). It is full of energy and strength.
Dandiya
It is a popular dance form of Rajasthan. Dressed in colourful costumes the dancers play skilfully big sticks in their hands. This dance is accompanied by the musical instrument 'Meddale' played by the drummer in the centre.
Don't Miss: Kathakali Indian Dance Drama
Dollu Kunitha
Dollu Kunita is a popular drum dance of Karnataka. Large drums are adorned with coloured clothes and hung around the men. This form has religious and battle fervor. They are reflected in the songs sung by the singers. The main emphasis is on a quick and light movement of the feet and legs.
Padayani
It is one of the most colourful and popular dances of Southern Kerala. It is associated with the festival of certain temples, called Padayani.
Folk dances of India have added to the richness of the Indian culture. Since every folk dance is associated with some religious or social function they have become an integral part of our social milieu.
Have a look at:
Classical Dances of India: Mirror of Cultural India
Indian classical dance forms Bharatanatyam, Kuchipudi, Kathakali, Kathak, Odissi