Name : Shivdeep Waman Lande
Born : Shivdeep Waman Lande
20 August 1976 (age 36)
Akola, Maharashtra, India
Nationality : Indian
Education : BE (Electrical)
Occupation : IPS Officer – SP
Home town : Akola, Maharashtra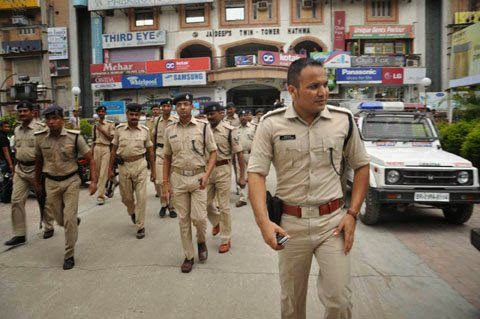 Shivdeep Waman Lande is an IPS officer of 2006 Batch.[4][5] Currently SP of Katihar, Bihar and has recently assumed the additional charge of Kishanganj district. He gained popularity while serving as city SP of Patna, capital of Bihar. During his approximate 10 months service he caught many criminals, from fake cosmetic sellers to medicine mafia. Lande became a hero among young girls of the city, as he taught a lesson to men teasing girls or harassing them. He would make sure that cameras or media people were present when was about to bust a gang. He received 300 messages on an average everyday on his phone.
70% of his pay goes into an organisation which arranges marriages for poor girls and hostels for students.
His father is a farmer in Akola, Maharashtra.[6] Coming from a poor family, he studied on scholarships till he became an IPS officer. He has a BE (Electrical and Power) from Amravati University from Sri Sant Gajanan Maharaj College Of Engineering, Shegaon.
When he had to leave Patna, people of the city took out candle-light march and protested against the government decision of his transfer. It is said that he received more than 2000 messages on his phone on the day of his transfer.[5] Many rumours have surrounded his transfer from Patna to Araria.Though, Lande has continued to be in news through his usual busting of crime networks.
Shivdeep Waman Lande IN NEWS
PATNA : He came, he policed, he conquered – the hearts of Patnaites. In his brief tenure of ten months as SP (city) and SP (traffic), Shivdeep Waman Lande made a fan following as huge as, old-timers would agree, Ajay Kumar and R S Bhatti.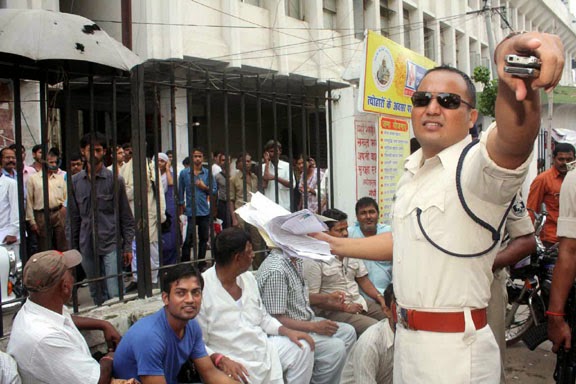 Kumar quit IPS to work for corporates and ended up winning the parliamentary election as Jharkhand Vikas Party candidate from Jamshedpur where he was equally popular as top cop once. If Lande calls it quits for politics, he won't perhaps need the prop of a political party to emerge victor. The Yuvak Sangathan he founded in his home district Akola after joining the Indian Revenue Service in 2004, has a membership of 70,000-odd villagers devoted to the cause espoused by him.

Lande donates 60% to 70% of his pay to the Sangathan which organizes mass marriages of poor girls and runs coaching classes and a hostel for students in Akola to "aid them realize their dreams". The "worse-off among them with a spark" are adopted by the Sangathan which fully finances them till they land a job.

Few in Bihar know about the social activist that Lande is. This engineering grad who quit IRS to join IPS in 2006, is known more for his proactive policing. His crackdown on spurious drugs, cosmetics and edible items; his 24X7 availability on phone and promptness to rescue damsels in distress; his raids on shady cybercafes and his 'Dabangg'-like strictness in dealing with the high and mighty violating traffic rules saw him rise and shine in the eyes of not only the youngsters but also their guardians.

The cop in his thirties would not enumerate his feats. "People's faith in police increased and they knew police would act if they called me," is how Lande described his "only achievement". Ask the Maharashtrian the difference between policing in Bihar and Maharashtra, and pat came the reply: job satisfaction. "You know why? Political interference in Bihar is negligible."
Lande enjoys a clean image. Why then he didn't sign the Team Anna's I-won't-take-bribe declaration? "The oath that IPS officers take at National Police Academy-Hyderabad includes the pledge against graft. I didn't feel like giving an undertaking for the second time," he said and added he would willingly sign on the dotted line if such a declaration is prescribed by the All India Service Conduct Rules.
How true are reports that SMSes popping the question to Lande kept raining on his cellphones? The officer blushingly laughed off the question. Prodded further, he let this reporter access his inbox in which one of the SMSes, translated into English, read: "Sweetheart, the style of your functioning resembles the style of my thinking. Whenever you do a good job, I get congratulations. For, my friends know you are mine."
But marriage is nowhere on Lande's list of priorities. "My Sangathan members are like my family; I don't think I will get time off my official and social preoccupations to devote to marriage and children," he said. How so sad for the wannabe brides!
(In NEWS)
Patna Police recover fake tobacco products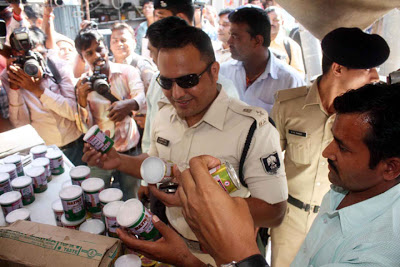 A Patna Police team led by City SP Shivdeep Lande conducted raid on a shop in New Market in Patna on October 13, 2011 and seized several cartons of fake tobacco products of reputed brand.
11 DTO 'agents' arrested in Patna
(source:
viewpatna.blogspot.com)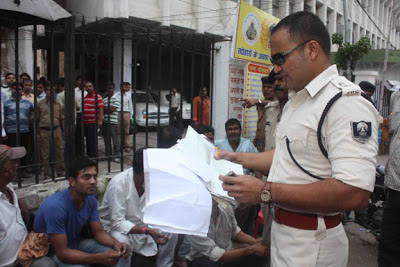 Patna Police team led by its City SP Shivdeep Lande conducted raid in the premises of district transport office (DTO) on September 30, 2011 and arrested 11 persons for interrogation. The raid was conducted after detection of number of driving licences issued to underage persons. The arrested persons are said to be the agents who deal with the processing of driving licences on premium.
Photo: Aftab Alam Siddiqui
Police seize 100 motorcycles, detain 42 youths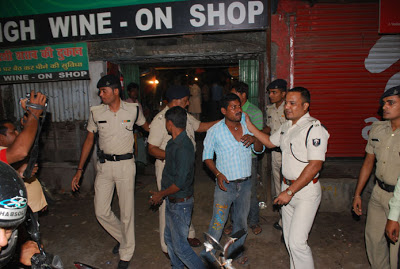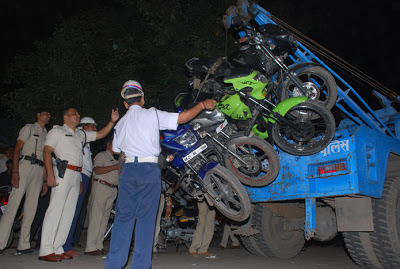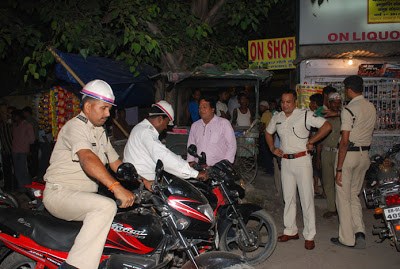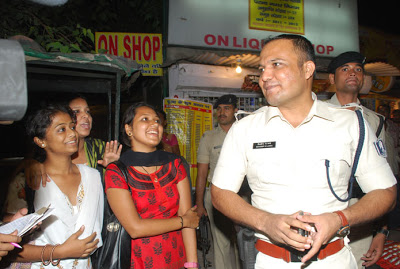 A Patna Police team led by City SP Shivdeep Lande conducted raids on liquor shops in different parts of the State Capital on October 14, 2011, and seized more than 100 mobikes and detained 42 persons. The raids were conducted a day after two youths attempted to molest a college girl near Income Tax round-about. Meanwhile, a group of college girls expressed their gratitude to City SP Shivdeep W Lande for taking prompt action against lumpen.