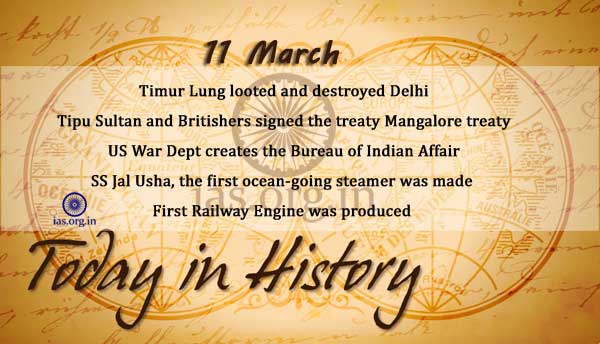 1399
While returning to his country, Timur Lung looted and destroyed Delhi and parts of North India including Hardwar, the Ganga pilgrimage town, and crossed Sindhu River.
1689
Sambhaji, Shivaji's successor, who was captured at Sangameshwar, was assasinated in the prison of Aurangzeb by Mughal officer Muqurab Khan.
1784
Tipu Sultan and Britishers signed the treaty at Mangalore which is known as the Mangalore treaty.
1795
Battle at Kurdla India, Mahratten beat Mughals.
1824
US War Dept creates the Bureau of Indian Affair.
1881
Ashley Eden unveiled in Calcutta Town Hall the first statue of Indians Ram Nath Tagore and Dwarkanath Tagore.
1886
Anandibai Gopalrao Joshi became the first Indian lady doctor. She passed the MBBS degree from Philadelphia University of America.
1888
On this day in 1888, one of the worst blizzards in American history strikes the Northeast, killing more than 400 people and dumping as much as 55 inches of snow in some areas.
1948
SS Jal Usha, the first ocean-going steamer made in India, was launched from Visakhapatnam.
1963
First Railway Engine was produced by Chittaranjan Railway Factory.
1971
Indira Gandhi wins majority in Parliament.
1984
India's first modern boas `Jalusha' started from Vishakhapattanam.
1992
Dr. Anita B. Bose, daughter of Netaji, declines to accept the 'Bharat Ratna' conferred on her father.
Related Articles: