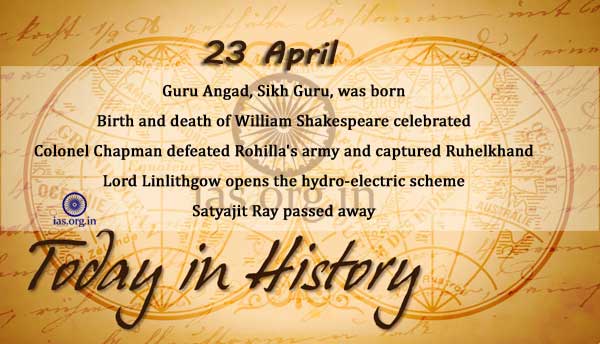 1504
Guru Angad, Sikh Guru, was born.
1564
The great English dramatist and poet William Shakespeare was born in Stratford-on-Avon on April 23, 1564. It is impossible to be certain the exact date on which he was born, but church records show that he was baptized on April 26, and three days was a customary period of time to wait before baptizing a newborn. Shakespeare died on the same day in 1616.
1774
British Commander Colonel Chapman defeated Rohilla's army and captured Ruhelkhand.
1938
Viceroy Lord Linlithgow opens the hydro-electric scheme at Malakand.
1955
Political Committee of Asian-African Conference at Bandung adopted an Indian resolution calling for a ban on atomic weapons.
1959
Peking Radio reports say that Chinese troops defeated rebels in south-eastern Tibet and have closed Tibet's borders with India and Burma.
1967
Soviet cosmonaut Vladimir Komarov is killed when his parachute fails to deploy during his spacecraft's landing. Komarov was testing the spacecraft Soyuz I in the midst of the space race between the United States and the Soviet Union.
1987
Supreme Court in a judgement conferred Hindu widows absolute ownership of property under Hindu Succession Act 1956.
1992
Satyajit Ray, internationally famous Indian film producer-director, Bharat Ratna Awardee, passed away at the age of 70.
1994
Ibrahim Sulaiman Sait, former Indian Union Muslim League president, floats a new party – the Indian National League.
Related Articles: