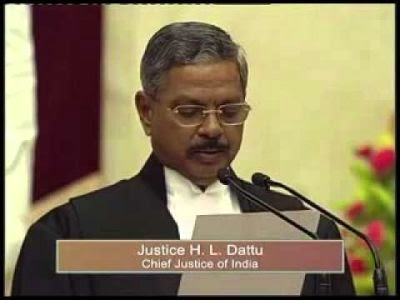 Justice Handyala Lakshminarayanaswamy Dattu was sworn-in as the 42nd Chief Justice of India on 28 September 2014.
He was administered the oath of office by President Pranab Mukherjee at Rashtrapati Bhawan. He succeeded Chief Justice RM Lodha who demitted office on 27 September 2014. His name for the appointment for the office of the Chief Justice of India was cleared by President on 3 September 2014.
Dattu will have tenure of 14 months as the Chief Justice of India as he will retire from his office on 2 December 2015.
Dattu will be the CJI with longest tenure in recent years, as the previous two CJIs namely Justice S Sathasivam and Justice RM Lodha retired from their office with a tenure of nine and five months respectively.
About Handyala Lakshminarayanaswamy Dattu

• HL Dattu is the head of the bench that monitored investigations into the 2G
spectrum scam 
• He joined Supreme Court of India as a Judge on 17 December 2008 
• In 1975, he started his practice as an advocate in Bangalore, where he dealt
with different types of cases that included civil, criminal, tax and
Constitutional matters
• From 1983 to 1990, he appeared as government counsel in the Karnataka High
court for the sales tax department 
• He was designated as the senior standing counsel for Income Tax department in
1995 after which on 18 December 1995, he was elevated as a judge of the
Karnataka high Court 
• He has served as a Chief Justice of the Chhattisgarh High Court on 12
February 2007 and shortly afterwards Dattu was transferred to the Kerala High
Court on 18 May 2007
Some major cases that will be heard by Justice Dattu during his tenure include
pending review petition on the legality of Section 377, adjudication of the fate of Delhi Assembly, Black money and
others.