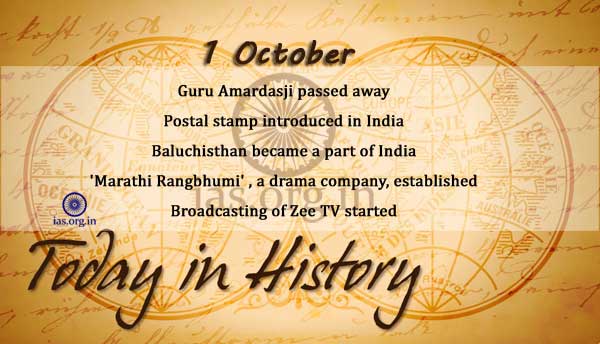 1574
Guru Amardasji passed away.
1791
In Paris, the National Legislative Assembly holds its first meeting.
1839
The British government decides to send a punitive naval expedition to China.
1847
Annie Besant, famous philosopher and thesophist, was born in London.
1854
Postal stamp introduced in India. These lithographed stamps were of denominations of half anna and one anna.
1886
Baluchisthan became a part of India.
1890
Yosemite National Park is dedicated in California.
1903
Sachindev Burman (S. D. Burman), famous film music director, was born.
1908
The Ford Model T, the first car for millions of Americans, hits the market.
1909
Gandhiji wrote to Tolstoy regarding Passive Resistance movement.
1926
Balkanji Bari Institute established for the welfare of children.
1941
No. 3 Squadron, similarly Audax-equipped, was raised at Peshawar.
1947
First flight of F-86 Sabre jet fighter, which would win fame in the Korean War.
1949
'Marathi Rangbhumi' , a drama company, established.
1953
The first new state in India since 1949, Andhra Pradesh, is established on purely linguistic basis and formally inaugurated.
1958
Metric System of weights was introduced in India.
1960
Nigeria becomes independent from the UK.
1967
Indian Tourist Development Corporation Limited established.
1978
In the Child Marriage Act, minimum age for marriage was raised to 21 year for males and 18 years for females.
1990
Constitution's 75th amendment bill to extend President's rule in Punjab for another six months fails through the first stage in Lok Sabha for want of a simple majority.
1992
Broadcasting of Zee TV started.
1995
Aditya Birla, famous industrialist, died.
2000
Ram Vilas Paswan, Communications Minister, launched the Bharat Sanchar Nigam Limited having total functional autonomy.
Also Read:
Today in History – 30 September
Today in History – 29 September
Today in History – 28 September