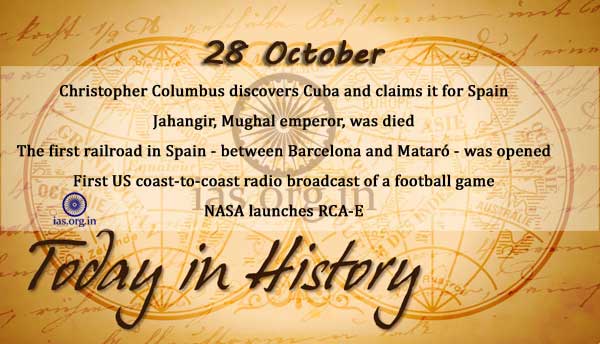 1492
Christopher Columbus discovers Cuba and claims it for Spain
1538
The first university in the New World, the Universidad Santo Tomas de Aquino, was established on Hispaniola.
1627
Jahangir, Mughal emperor, weak from asthma and no food, died at Bhimghar near Kashmir. He was buried at Shahdara (Lahore) on the banks of the Ravi.
1848
The first railroad in Spain – between Barcelona and Mataró – was opened.
1811
Yashwantrao Holkar, a diplomat of Peshwa kingdom, died.
1867
Swami Vivekanand Sister Nivedita, great freedom fighter, revolutionary and politician, was born at Dunganon in Ireland.
1888
Gandhiji reaches London. Lives on vegatarian diet. Takes lessons in dancing and music for a short time, thinking they are necessary parts of a gentleman's equipment.
1914
Omega Psi Phi Fraternity, founded at Howard University, incorporates
1922
First US coast-to-coast radio broadcast of a football game
1922
Benito Mussolini took control of the government of Italy.
1946
Gandhiji leaves for Calcutta. Riots break out in Bihar.
1947
Sheikh Mohammad Abdulla invited to form an interim government in J&K.
1962
US pledges to rush arms to India.
1974
Luna 23 launched (landing on Moon)
1981
Underground Metro Train Compartments were tested on trial basis at Calcutta.
1982
NASA launches RCA-E
1992
Karnataka government withdraws order allowing nine private organisations to start capitation fee for engineering colleges.
1997
Cabinet permits RBI to issue rupee notes of 1000 denomination.
1997
Gold import placed under Open General Licence.
1999
Insurance Bill is introduced amid protest in the Lok Sabha.
2009
NASA successfully launches the Ares I-X mission, the only rocket launch for its later-cancelled Constellation program.
Also Read: