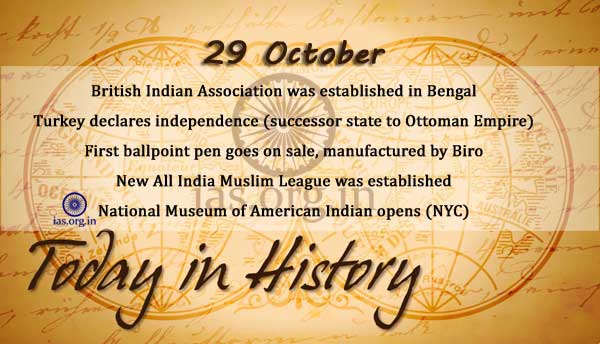 539 BC
King Cyrus The Great of Persia marches into the city of Babylon, releasing the Jews from almost 70 years of exile and making the first Human Rights Declaration.
1390
First trial for witchcraft in Paris.
1851
British Indian Association was established in Bengal with Radha Kanta Dev as president and Devendranath Tagore as the Secretary.
1859
Spain declares war on Morocco
1881
Judge (U.S. magazine) first published.
1894
First election of Hawaiian Republic
1920
Jamia Milliya Islamia was founded by Dr. Jakir Husain and his collegues at Aligarh. 'Khilafat' and the Non- Cooperation Movement were an integral part of policy animating.
1923
Turkey declares independence (successor state to Ottoman Empire)
1930
Pandit Jawaharlal Nehru is sent back to prison for two years following a speech he made at Allahabad the day after his release from jail.
1945
First ballpoint pen goes on sale, manufactured by Biro
1952
Amalgamation of the Steel Corporation of Bengal with Indian Iron and Steel Company Ltd. to be effective from 1st January 1953 under the latter's name.
1961
New All India Muslim League was established.
1962
China attacked India.
1964
The United Republic of Tanganyika & Zanzibar renamed The United Republic of Tanzania
1966
National Organization of Women founded
1990
Vinod Mehra, famous Hindi film actor, died.
1992
Komar Singh, the first Indian Ambassador to Israel, presented credentials to President Chain Herzog in Jerusalem.
1994
National Museum of American Indian opens (NYC)
2005
Delhi bombings kill more than 60.
2015
China announces the end of their one-child policy after 35 years
Also Read: