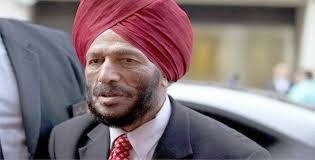 During the communal riots that followed the Indo-Pak partition, Milkha Singh lost his parents at a tender age of 12. It was then he ran for his life and came to India. Every day he used to walk a distance of 10 km barefoot from his home to a village school in Pakistan.
Facts About 'The Flying Sikh' – Milkha Singh
Milkha Singh wanted to join the Indian Army but was rejected thrice. He never gave up and got selected in his fourth attempt, when he had enrolled himself in the engineering department.
In 1951, when he joined in Secunderabad at the EME Centre. It was here that his talent as an athlete was discovered.
During his fatigue time (the time when the soldiers performed odd jobs) he often trained himself by racing against the meter gauge trains.
Milkha Singh used to spit blood, urinate blood and even used to go unconscious during his practice sessions. In fact, there were times when he had to be supplied with oxygen as he was on deathbed for more than a couple of
times.
His very first competitive race was a cross country race, where Milkha Singh finished 6th amongst 500 racers.
During the 1958 Asian Games, he won a gold medal for both 200m and 400m race with a clocking time of 21.6 sec and 47 sec respectively.
At the 1958 Cardiff Commonwealth Games, he won a gold medal in 400m with a clocking time of 46.16 sec. It was here that Milkha became the first to win a gold medal at the Commonwealth Games from Independent India
After his unbeatable success in 1958 Asian Games in Tokyo, his designation in the Army was changed to Junior Commissioned Officer from a Sepoy.
During the 1960 Olympics in Rome, Milkha Singh finished second in 400m race prior to the final race.
Unfortunately, Milkha lost the bronze in the final 1960 Olympic race by just 0.1 sec.
He became extremely popular during the 1960 Rome Olympics. The actual reason for his popularity was his long beard and hair. Before Milkha,the Romans had not seen any athlete with such unique headgear. In
fact, people in Rome were so much fascinated by his headgear that they thought
he was a saint and wondered how a saint managed to run so fast.
In 1962, Milkha Singh defeated Abdul Khaliq, the fastest Pakistani runner and it was then that he was sobriquet the title of "The Flying Sikh" by Pakistani General, Ayub Kahn.
In 1999, Milkha adopted a seven-year-old son of brave Havildar Bikram Singh, who had died fighting in the battle of Tiger Hill during the Kargil War.
He sold his biography to Mehra, the Producer and Director of 'Bhaag Milkha Bhaag', only for Re. 1.
Milkha claims that he had not watched any movie since 1968. But, after he saw "Bhaag Milkha Bhaag" he was in tears and was happy that Farhan Akhtar did full justice in playing his character.
In 2001, Milkha Singh declined the prestigious "Arjuna Award", saying it came '40 years too late'.
He was once caught on a train traveling without a ticket and was sent to Tihar Jail. He was released only after his sister sold off her jewelry to get him bailed.
His last desire before he leaves this world is to see an Indian boy or girl, win an Olympic Gold Medal for the country.
Read Also:
Legendary Sports Personalities of the World
India and Indians at the Olympics
Introduction of Events in the Olympics