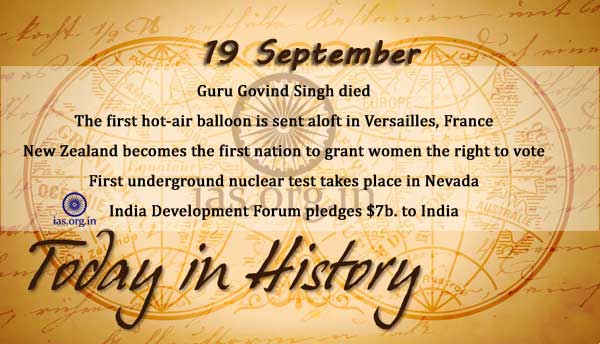 1356
In a landmark battle of the Hundred Years' War, English Prince Edward defeats the French at Poitiers.
1581
Guru Ramdasji died. His son Arjun Dev succeeded him and changed the offerings to the Guru into a regular tax.
1704
Guru Govind Singh died.
1783
The first hot-air balloon is sent aloft in Versailles, France with animal passengers including a sheep, rooster and a duck.
1788
Charles de Barentin becomes lord chancellor of France.
1841
The first railway to span a frontier is completed between Strasbourg and Basel, in Europe.
1893
New Zealand becomes the first nation to grant women the right to vote.
1911
Boyi Bhimanna, great Hindi writer, poet and prolific author, was born at Mamidikuduru in AP.
1948
Moscow announces it will withdrawal soldiers from Korea by the end of the year.
1950
U. N. Assembly rejects Indian-Soviet proposal to admit Communist China in New York.
1957
First underground nuclear test takes place in Nevada.
1960
Sindhu River water-sharing settement was signed between India and Pakistan.
1962
Jawaharlal Nehru was devastated when China began attacks on India's northern frontier leading to Indo-China War.
1965
Government extends ultimatum to India to dismantle forts within four days in China.
1990
Rajeev Goswami, a student of Delhi University, attempts to self immolate himself in protest against the implementation of Mandal Commission Report.
1990
Planning Commission announces 8th Five-Year Plan proposals with a total outlay of Rs. 610,000 crore.
1991
Lok Sabha passes unanimously the Places of Worship Special Provisions Bill for maintaining the status quo of religious places as on 1947.
1996
India Development Forum pledges $7b. to India.
2000
Karnam Malleswari becomes the first Indian woman to win an Olympic medal (bronze) at the Sydney Olympics.
Also Read:
Today in History – 14 September
Today in History – 13 September
Today in History – 12 September