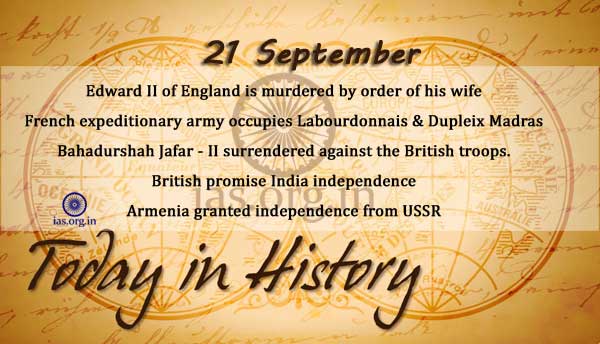 1327
Edward II of England is murdered by order of his wife.
1520
Suleiman (the Magnificent), son of Selim, becomes Ottoman sultan in Constantinople.
1746
French expeditionary army occupies Labourdonnais & Dupleix Madras.
1857
Bahadurshah Jafar – II surrendered against the British troops.
1866
Charles Jean Henri Nicolle, bacteriologist, discovered that typhus fever is transmitted by body louse, was born.
1912
Firoz Gandhi, great politician, was born.
1929
Fighting between China and the Soviet Union breaks out along the Manchurian border.
1936
The German army holds its largest maneuvers since 1914.
1945
British promise India independence.
1948
Formation of Press Trust of India (PTI) announced under an agreement signed between Reuters and Indian and Eastern Newspapers Society.
1954
Last Indian troops withdraw from Tibet.
1962
Major General I J Rikhye completed the task in accordance with the memorandum to UNSF, thus fulfilling the mandate of cessation of hostilities without any incident.
1966
Mihir Sen swam the Bay of Persia.
1981
Belize granted full independence from the United Kingdom.
1984
National Bureau of Animal Genetic Resources and National Institute of Animal Genetics were set up.
1990
Supreme Court refuses to stay implementation of Mandal Commission Report.
1991
Armenia granted independence from USSR.
1992
The Officers Training School (OTS) women were inducted into the Army as Officers, and the onerous task of training the Lady Cadets of WSES (O) courses commenced at the OTS.
1994
Ramkrishna Bajaj, freedom fighter and veteran industrialist, passed away.
1995
Rumors that statues of the Hindu god Ganesh were drinking milk spread in New Delhi.
1999
Earthquake in Taiwan kills more than 2,400, injures over 11,305, and causes $300 billion New Taiwan dollars ($10 billion in US dollars).
2000
J.W. Singh, suspended Mumbai High Court judge facing charges of extortion in nexus with the underworld, dismissed from judicial service.
2003
Galileo space mission ends as the probe is sent into Jupiter's atmosphere where it is crushed.
Also Read:
Today in History – 20 September
Today in History- 19 September
Today in History – 14 September