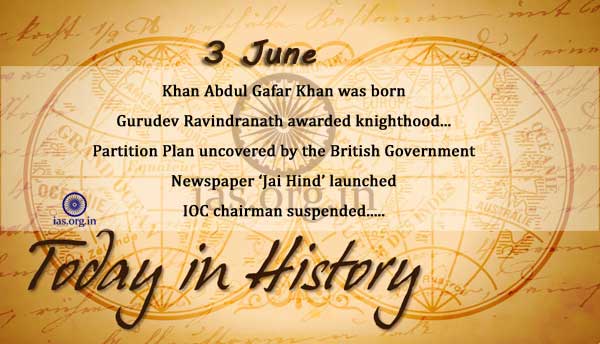 1818
Maratha wars between British & Maratha Confederacy in India ended.
1864
Some 7,000 Union troops were killed within 30 minutes during the Battle of Cold Harbor in Virginia.
1888
The classic baseball poem "Casey at the Bat," written by Ernest L. Thayer, was published in the San Francisco Examiner.
1890
Khan Abdul Gafar Khan, follower of Mahatma Gandhi, was born.
1901
Mahakavi G.Sankara Kurup, Malayalam poet, was born. He was the first winner of the conveted Gyaanpeeth Award in 1965 for his poems ""Odakkuzhal"" in Malayala.
1915
Sir' knighthood was granted to Gurudev Ravindranath Tagore by the British Government.
1916
Smt. Nathibai Damodar Thakarsey Women's University was established.
1940
The German Luftwaffe hit Paris with 1,100 bombs.
1947
British Government issued the partition plan, which was worked out by Lord Louis Mountbatten in New Delhi and was accepted by both Muslim League and Congress.
1947
Evening newspaper 'Jay Hind' published.
1972
First British designed Indian built modern warship of the Leander class, 'INS Nilgiri' commissioned by Prime Minister Indira Gandhi, was completely made in Mazgaon Dock, Mumbai.
1985
The week comprising of five working days was implemented in Central Government Offices for its staff.
1993
K N Venkatasubramanian,IOC Chairman, suspended for leaking information about oil purchase plans to international dealers.
1998
The naval version of the surface-to-air missile, Trishul, was test-fired in Kochi.
1999
Flight Lieutenant K. Nachiketa was handed over by the International Committee of the Red Cross to the Indian High Commissioner inside the High Commission premises.
Also Read:
Today in History- 30 May