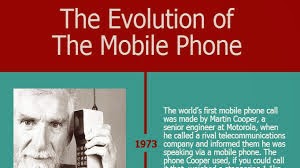 Your mobile phone has more computing power than the computers used for the Apollo 11
moon
landing. In 1983, the first mobile phones went on sale in the U.S. at almost $4,000 each.
Fascinating Facts About Mobile Phones
Mobile phones have 18 times more bacteria than toilet handles.
In Japan, 90% of mobile phones are waterproof because youngsters use them even in the shower.
Mobile Phone Radiation can cause Insomnia, headaches and confusion.
Scientists have developed a way of charging mobile phones using urine.
The first mobile phone call was made on 3rd April 1973 by Martin Cooper, a former Motorola inventor who is known as "the father of the cell phone".
Apple's iPhone has higher sales than everything Microsoft has to offer.
Over 250 million Nokia 1100devices were sold, making it the bestselling electrical gadget in history.
More People In The World Have Mobile Phones Than Toilets.
China has more internet users on mobile devices than on PCs.
So many Facebook photos and videos are uploaded via mobile that it takes up 27% of upstream web traffic.
99% of all mobile malware is targeted at Android users.
In 1993, world's first Smartphone was debuted at Florida's Wireless World Conference by BellSouth Cellular; it has a LCD touch screen display.  This was designed by IBM and named as Simon, priced at $899.
There are more mobile phones than PCs, the ratio is 5 times.
142,000 pounds is the highest ever mobile bill by Celina Aarons.
iPhone 5 Black Diamond is the costliest phone in the world, which costs $15 million. It will take nine weeks to build, made of 135 gram solid gold of 24 carat and the chassis was inlaid with 600 white diamonds.
The most common use for a mobile is neither calling nor texting but checking the time. This has prompted concerns texting will bring about the death of the wristwatch.
 In 1993, IBM released a mobile phone with touch screen and E-mail
The first message sent over the Washington-Moscow hotline (aka "Red phone") was "The quick brown fox jumps over the lazy dog 1234567890″. To make sure all keys on the teletypes were operational.
90% of text messages are read within 3 MINUTES of being delivered.
Long before the iPhone, there was IBM Simon. Released in 1993 this bulky gadget was the first smartphone and had a calendar, fax, touch screen and a host of other features – all for about £500
Mobile phone texting came into existence 21 years ago. The first message was sent by Neil Papworth, which was 'Merry Christmas'.
The first photo to be shared using a cell phone was taken by Philippe Kahn in 1997. He sent pictures of his
daughter Sophie from the maternity ward. He is a French inventor who developed the world's very first camera phone.
Also, Read: