If one sets out to understand the true meaning of the observation made by one of the greatest thinkers of all time, R.W.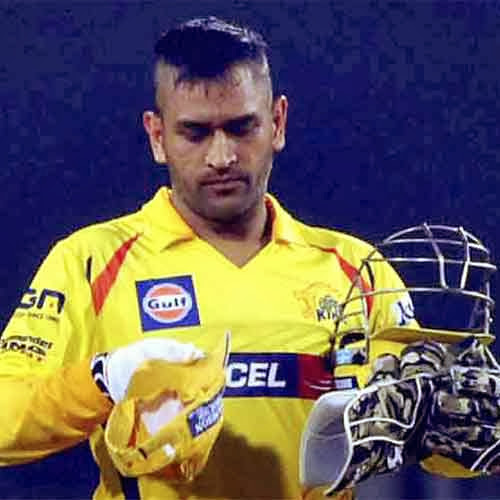 _ Emerson—"Self-trust is the essence of heroism," the personality of the great Indian skipper, Mahendra Singh Dhoni at once comes to one's mind. Amid controversies regarding alleged instances of betting, spot-fixing and match-fixing in the Indian Premier League-6 held in 2013, he did not let media uproar heavy on his mind. Like a true hero, he led India nonchalantly to beat England by five runs in the rain-curtailed final of the Champions Trophy in Birmingham on June 23,2013. After this victory, India became the second team after Australia to hold both the World Cup and the Champions Trophy at the same time. A small-town boy, Dhoni has dazzled everybody's eyes and acquired a permanent place in the national team with a bang in such a big way that every Indian prides himself/herself upon being his compatriot. His brilliance as a great player is evident from his natural flair for aggression and making runs at a breathtaking pace. He virtually takes games away from the opposition at will. Today, he is considered one of the greatest batsmen of the world by virtue of his inimitable batting style and enormous range of shots. His mercurial mind never fails to fascinate the spectators and the Test series win of the Team India bears testimony to this fact. He led his team to 4-0 victory against Australia in the Test series played in February-March, 2013. Earlier, he had led India to enviable victory in the inaugural World Cup Twenty20 championship in South Africa in 2007 and made history by leading his team to lift the ICC Cricket World Cup 2011 after a gap of 28 years.
Dhoni was born on July 7, 1981 in Ranchi and studied at DAV Jawahar Vidya Mandir, Ranchi. He made his One-Day International (ODI) debut against Bangladesh in Chittagong in December 2004. He mesmerised the cricket fraternity when he hit a blistering knock (148 runs off 123 balls) against Pakistan in Visakhapatnam in 2005. His genius reached its insurmountable best during his exuberant ODI innings of 183 runs (not out) against Sri Lanka in Jaipur,
Rajasthan, in October 2005. It was the highest ODI score posted by a wicketkeeper and also the highest score (120) off 6s and 4s in an ODI innings.
Dhoni made his Test debut against Sri Lanka in Chennai, on December 2, 2005. He made an instant imprint on the Test level too, pounding 148 against Pakistan at Faisalabad, only in his fifth Test, when India were struggling to avoid the follow-on. Dhoni has introduced a new genre of Indian cricketers—committed, courageous, fearless and willing to face every challenge directly. Be it his composed attitude or the healthy secrets of his muscular prowess, Dhoni is the dream hero of all. The excellent wicketkeeper-batsman was voted as the MTV Youth Icon for the year 2006. The same year, IASpaperhonoured him with a CSR Gold Medal which is given to outstanding achievers. In the year that followed, i.e. 2007, the Government of India conferred the most prestigious award, Rajiv Gandhi Khel Ratna on him for his excellent contribution to the field of sports.